Brand Spotlight: Tepa Foods by Bitesizebkk
When you walk into a supermarket, do you often find yourself bypassing the local brands and spices? What is it about food labels that catches our eyes? Design and branding comes to mind. Why is it that for Thais, local food brands on the aisles doesn't hold the same fascination.
This is what Tepa Foods, a Bangkok based food brand wants to tackle.
We (Bitesizebkk.co) sat down with founder, Pantila Debhakham to discuss her goal of taking Thai ingredients global, with marketable design and a ready to cook mindset.
The Heritage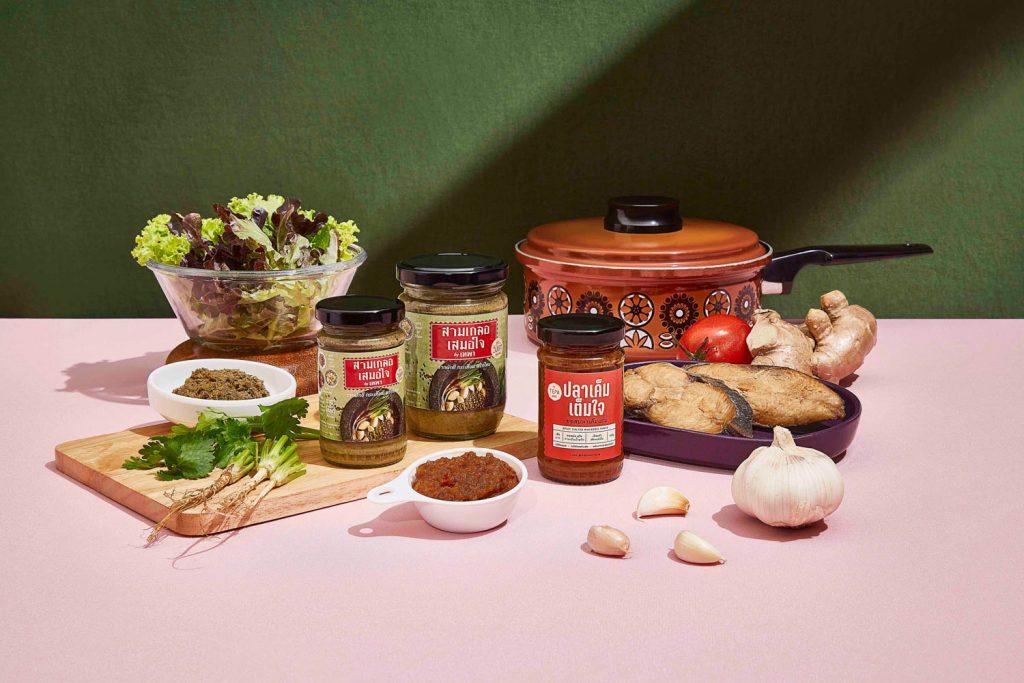 "Tepa Foods was originally called Promptkin and was founded by my father in 2011," says Pantila. "Promptkin was born as a single product; vacuum packed and readily fried salted mackerel (pla kem)."
The brand remained stagnant as a single product since 2011, selling only 50 pieces per month in villa and foodland.
When Pantila came into the business in 2017, she focused on one crucial aspect; revising the brand's strong purpose of creating food staples that have long shelf lives, without compromising the taste.
She also focused on getting the product into more supermarkets, such as Tops Supermarket and Gourmet Market, as well as creating a fully fledged social media presence and launching on marketplaces such as Lazada and Shopee.
This mission is what motivated Pantila to begin creating the ecosystem for Promptkin; she wanted to push local Thai products onto the global stage, one with marketable designs and high quality ingredients that can last over a year in your pantry.
"When I came in to overhaul the Promptkin brand, I also created a second product; Saamkler Samurjai (Thai Trio magic cooking paste). I saw the opportunity to enhance Thai herbs and spices."
This captures the unique selling point of the brand; Pantila is making lesser known Thai ingredients approachable.
"Saamkler Samurjai is a cooking paste made from coriander root, garlic and peppercorn, it's not something you can effortlessly make at home," says Pantila. "Or at least, not for people of my generation anyway."
For her parents' generation, a product like Saamkler Samurjai was something Thai students that studied abroad often pack from their family kitchen in Bangkok to their apartment in Boston. This is probably something that still rings true for students today.
"There's something very unique about Tepa Foods. My inspiration is my grandmother who truly values food and heritage. She talks about food like it's a religion. My goal is to bring back forgotten and lesser known Thai ingredients from my grandparents' generation, and make it relevant today."
The 3-in-1 Experience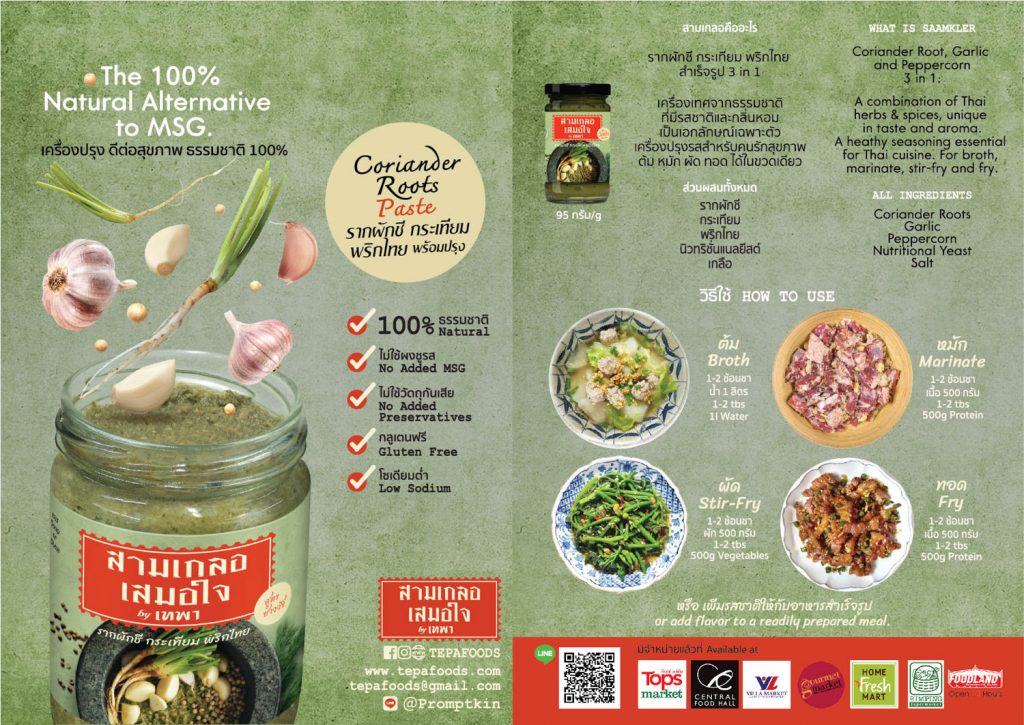 As new generations of city dwellers, freelancers and general professionals grow up into full fledged urbanites, owning their own condo or living with their partners, it becomes more time consuming to balance work, social life and general errands with cooking. This is the very core of Tepa's value proposition.
Not everyone likes to cook, and not everyone is able to. With Saamkler Samurjai for example, all you need are some chicken breasts and a sizzling pan, and you're done.
This modern lifestyle is all about the 3-in-1, or convenience in 1," says Pantila. "Cooking has become a hobby and not just a necessity. Tepa Foods eliminates the pain point of having to shop for different ingredients and instead allows them to enjoy their leisure cooking time."
The very concept of time has risen to become one of the key attributes in consumer goods. Online shopping? Saves time and effort, ready to cook food staples? Saves time and effort.
"From 2017 to now, I've fully made Promptkin my own brand, which I then grew to Tepa Foods. The thing I am most interested about, is how local, Thai ingredients can be easily re-imagined into modern menus for the modern family."
The Tepa Ecosystem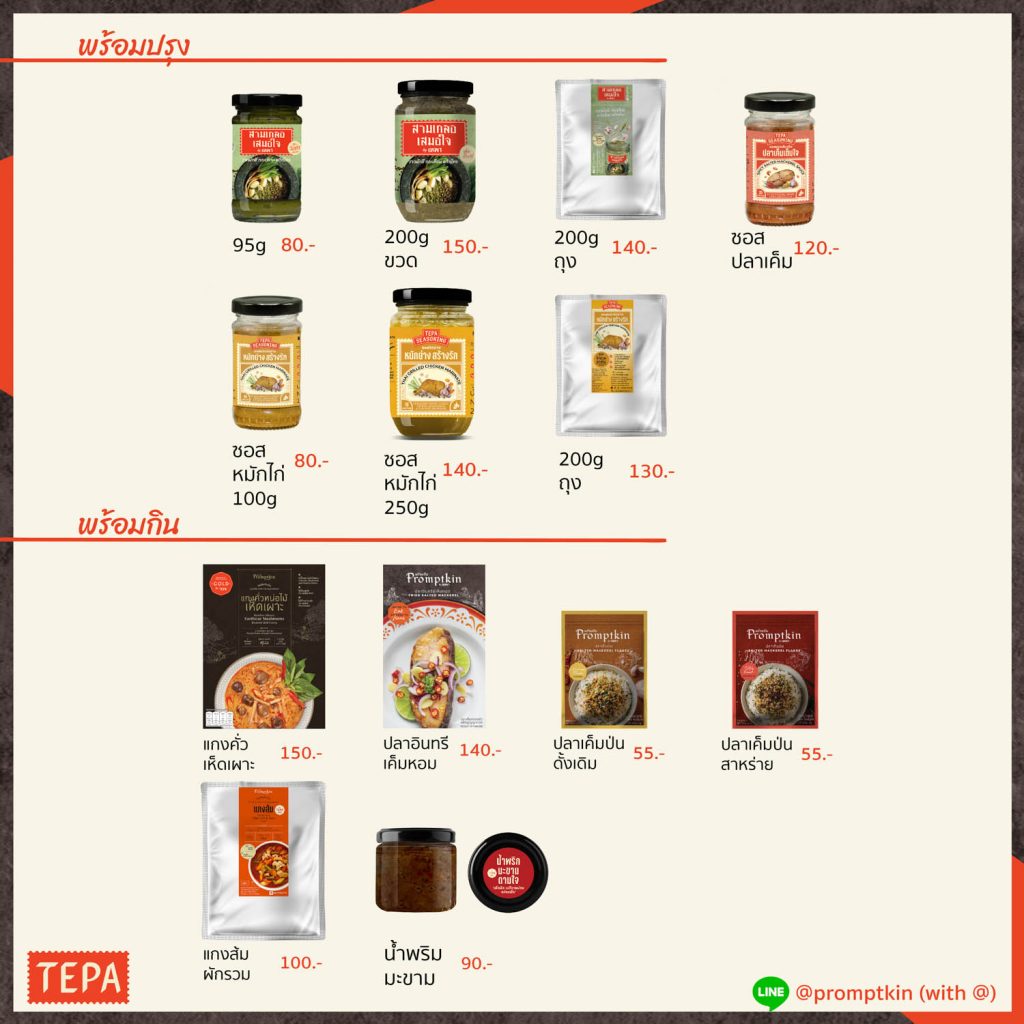 From Promptkin's single product of salted mackerel in 2011 to a fully fledged ingredients led food ecosystem now established as Tepa Foods, the brand has evolved in a big way.
"We are an ingredient- led food brand first," she says. "I separate my customers and products into two segments; those who love to cook and those who don't."
Today, the Promptkin brand is still up and actively running as part of Tepa Foods' ready to eat segment. Tepa Foods' overall focus are the sauces and cooking condiments, which now also includes the new pla kem cooking sauce and a marinade sauce.
"The brand has evolved into an ecosystem of local ingredients and products. I'm actively making these lesser known ingredients and recipes more accessible to the public," says Pantila.
One example of this is the puffed mushroom curry (this is actually one of bitesize's favorites). It's not an every day menu. The mushroom is only available 2 months of the year in Thailand, but Promptkin sells the curry in a ready made packet all year round, all you have to do is heat it up for two minutes. The finished product combines Thai seasonal ingredients with food technology to make it available all year round.
"What we've noticed amid the pandemic is the increased interest in seasoning products, as well as more familiarity with rarer ingredients. The next goal for us is to expand this segment as more people are experimenting with recipes at home and feedback has been positive," says Pantila.
The Online Experiment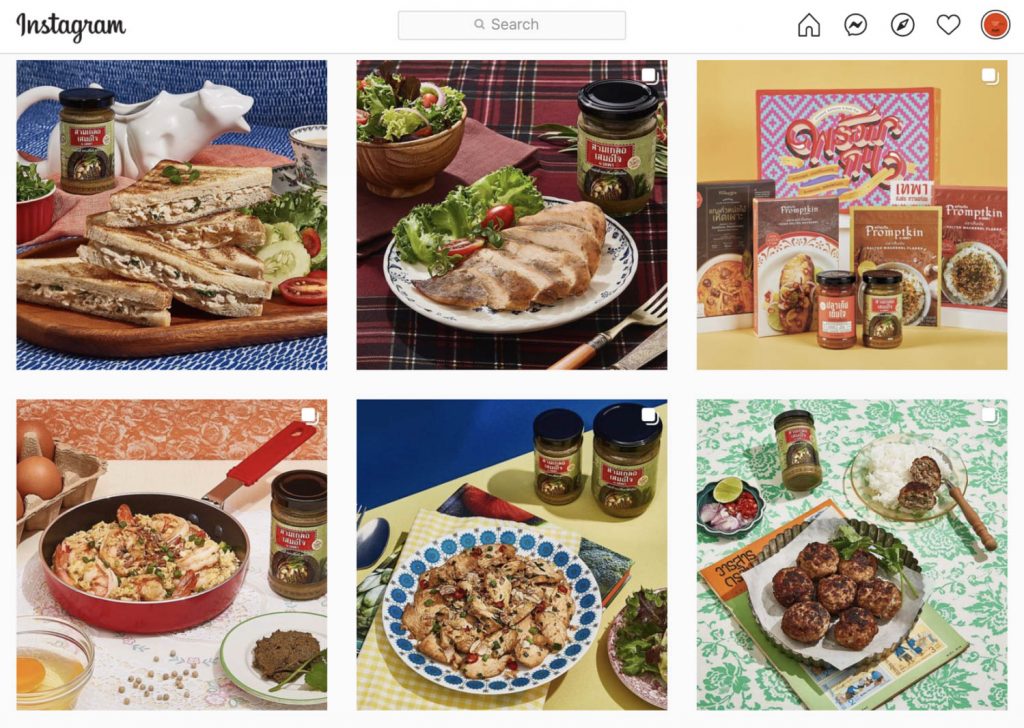 The challenges that Pantila faced whilst building Tepa Foods wasn't just related to pushing lesser known ingredients out to the mass, but also about how to effectively market the products, as well as choose the right channel for distribution.
Visibility is key in attracting new customers, especially now when products can be marketed, sold and shipped to essentially anywhere.
"The US is our second most popular market after Thailand. What we're beginning to see is an uptick in orders from Asian Americans, whether they're Vietnamese or Taiwanese, ordering from us and asking about different ways to cook."
Without the likes of Facebook, it would have been almost impossible to see that kind of exposure and traction. This proves how social media does have its perks for small businesses beyond the narrative of data manipulation and election influencing.
Currently, Tepa Foods sees 60% of sales from offline purchases and 40% online. Pantila also counts the overseas export orders in the offline category, which makes up a growing segment.
"If we were to dive deep into best selling channels in terms of volume, Shopee is our best performing platform," says Pantila. "Marketplaces have that edge where potential buyers see how many units of something has been sold. The more popular your product is, the more people are curious about trying it."
By also giving importance to branding, packaging and investing in user generated content (UGC), it gives Tepa Foods a certain accessibility, especially for connecting with potential customers online.
Running a successful business in the digital age is all about leveraging the data. In order to remain competitive, brands have to constantly be acting on metrics and feedback.
What's Next?
Pantila's ultimate goal is to become an outspoken advocate for local Thai ingredients to go global, as well as to push more Thais to discover forgotten goods.
"What I've noticed is that Thai people have an affinity for export goods. My ultimate goal is for Thai people to value local ingredients as much as they do Korean ramen, for example. Convenience and nutrition should go hand in hand," says Pantila.
"B2C will remain a focus for Tepa Foods but B2B is interesting to me because of the customer retention," says Pantila. "For restaurants, it might benefit them to bulk order and enjoy my products' longer shelf life, not only to cut costs but also to eliminate food waste."
Tepa Foods isn't just another me too food brand, but one with purpose in mind. The ecosystem of products are designed to compliment modern lifestyles and taste palettes, coupled with a social mission in breaking barriers for underserved Thai ingredients. It's 2021 after all, brands can strive to do well by doing good.